Mystical Journey Around Ireland Day 2
It's my second day in Ireland and I am just over the moon excited to see what I am going to be experiencing. I know coming here is going to be a spiritual and healing experience that was going to be profound, but i wasn't sure how it was going to look, I was just open to anything coming my way and experiencing my vision: playing in the fields like a little child.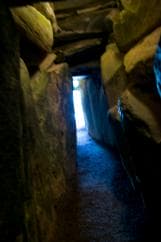 Our first stop as a group was Newgrange; such a energetic and powerful site. The Megalithic Passage Tomb at Newgrange was built about 3200 BC. The kidney shaped mound covers an area of over one acre and is surrounded by 97 kerbstones, some of which are richly decorated with megalithic art. It was amazing to feel the energy of the land and to feel already so connected.
As we walked into this ancient site you can see carvings, groves from early people that use this temple for spiritual significance. It was really tight walking through the mini maze to make it to the center, but it was beautiful. As we got to the center the tour guide turned off all the lights so you could experience what it felt like to only have the natural light seap in through the entrance. Our group closed our eyes and held hands to really connect with this ancient space; sealed with a
vibrational OM as it reverberated off the walls, it was so powerful I had had goose bumps all through my body.
Our time at Newgrange was coming to an end and it was time to walk back to the main entrance where our bus was located. It was about a 30 min walk and in the typical adventurist fashion a couple of us got lost and took the wrong turn. We had such a friendly local come to our rescue and drove a car full of women back to the museum, I have to say we made his day. Haha 🙂
While we were lost, and without realizing it, we happen to have our wonderful photographer friend with us, Monique, and we all took turns finding beautiful places to explore and take pictur
es. 
https://eef5usq34y8.exactdn.com/wp-content/uploads/2017/08/PSP_Blog-10.png?strip=all&lossy=1&quality=75&ssl=1
299
582
justine
https://eef5usq34y8.exactdn.com/wp-content/uploads/2020/05/psp-logo-stacked-300x98.png
justine
2017-08-11 13:52:54
2017-08-14 07:51:41
Mystical Journey Around Ireland Day 2