Journey to Ireland, with fertility stone. Pregnancy 3 months later
I can't believe my little guy is going to be 1 years old on the 16th…
This week, 2 years ago, I was in the most magical land that makes the soul just sing. It's almost as if this land was made for your inner child. So much beauty, adventures and discovery to be had.
Pregnancy, for me, was about creating emotional and spiritual space for a baby to come. I had had a lot of trauma of w
anting to get pregnant; for one, I didn't like how I felt with my first pregnancy. I didn't want to be a bitchy woman or feel emotionally unstable (like unwanted tears that pop out of nowhere). Plus I loved my freedom of being a mom to one child and my son is now 11. I got married to my soulmate/ other half in 2013, and been happily married going on 5 years. I didn't want to rush after we got married to have a baby, because I knew
that having a baby can put a lot of stress in a relationship especially if
 you haven't gotten to know each other as persons in a marriage. I know being married doesn't seem too hard but wh
en you're combining two separate people to create a flow, it can be challenging and I would rather go through all that without having a child in the mix adding another layer  of stress. Jay and I decided we would wait a number of years before we decided to have children. We had so much fun getting to know each other. I can seriously say he is my best friend, and I completely enjoy hanging out with him as both his wife and friend. After giving us this time to have fun together in life, 3 years into our marriage we decided we should try to have a baby.
Now this seems to be easy right? But I had emotional blocks that was causing my body to not align to having a child. I had some deep emotional wounds concerning my son, I didn't want him to feel rejected that I would be having another child, I alsodidn't want to have another child and en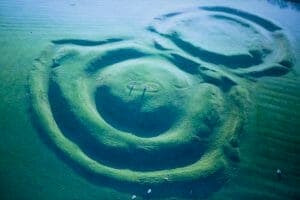 d up being a single mom again. I had fears of what if I change and my marriage suffers because of it. You get the pictures, lots of "what if's" and the fears of the unknown. I expressed my fears to Jay and I worked with an acupuncturist that was amazing. I also did Reiki to help me heal whatever trauma I was holding in my Sacral Chakra, which is associated with creativity and fertility. I also had to do some forgiveness for myself and also my ex husband. Once I dealt with all that crap I felt my body was in alignment and whenever my body was ready I would be ready.
So returning back to this magical place called Ireland. I went on a trip with my beautiful mentor and spiritual sister, Amanda Collins. On my second day of the trip, during a "Mystical Journey around Ireland" retreat that Amanda was hosting, we leave Newgrange to visit a sacred site called the Hill of Tara where its
said the middle stone is called "Stone of Destiny" where high kings were crowned, and a ceremony would be held there. On this land they have a graveyard with a church called Saint Patrick's. In this graveyard they have a stone with "Goddess of Fertility' engraved in an old Celtic looking font. Rumors state that whoever touches the stone will become pregnant.. I thought if it worked for my mentor it can work for me. Lol. So I decided to place my 3rd eye on the stone and… WOW! It felt like a vortex of energy moving around my body almost as if I was moving in a circle with the stone… it was super powerful. Through this whole trip around Ireland I did a lot of healing fears, and letting go, to heal my womb to make space for a little being to bless us with there presents.
Well 3 months later, on the morning of Christmas Eve of 2016 , we found out I was pregnant. It was so exciting we didn't tell anyone until the evening time at dinner, it was an amazing surprise.
https://eef5usq34y8.exactdn.com/wp-content/uploads/2018/08/PSP_Blog-14.png?strip=all&lossy=1&quality=75&ssl=1
299
582
justine
https://eef5usq34y8.exactdn.com/wp-content/uploads/2020/05/psp-logo-stacked-300x98.png
justine
2018-08-15 05:51:53
2018-08-15 05:51:53
Journey to Ireland, with fertility stone. Pregnancy 3 months later